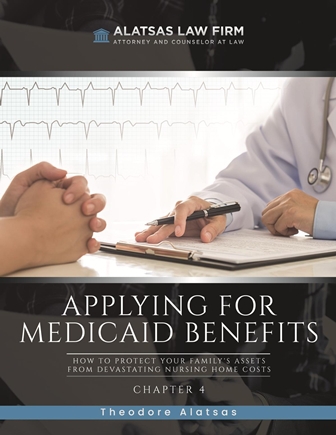 Most people don't like to think of a time when they'll be unable to care for themselves and require assistance to complete daily tasks but, as science helps us live longer, the need for long-term care and support services is becoming a reality for more and more seniors. In fact, according to the U.S. Department of Health and Human Services, someone who's 65 today has a nearly 70-percent chance of needing some type of long-term care in their remaining years.
Sadly, if you haven't planned for the expense, long-term nursing care can threaten to devastate your family's assets. Though Medicaid is the leading source of funding for long-term care, as a needs-based program, qualifying requires careful advance planning. Fortunately, you've come to the right place. Alatsas Law Firm can help you prepare for your future and safeguard assets for your beneficiaries.
Take a Page—or Chapter—From Our Book
Our skilled estate planning attorney has written a comprehensive Medicaid-planning guide to help clients protect their hard-earned assets from the ravages of long-term care costs. The chapter, Applying for Benefits, includes helpful information on:
Who can apply for Medicaid

The consequences of applying too late or too early

The applications process

Retroactive coverage

And much, much more
This informative chapter is available for free, as a preview of our book.
Request Your Free Chapter Today
Ready to learn more about Medicaid planning for long-term care? Just complete the form below to get your free chapter delivered directly to your inbox. After that, we'll follow up with you to answer your questions and send you the full version of our book, How to Protect Your Family's Assets From Devastating Nursing Home Costs.