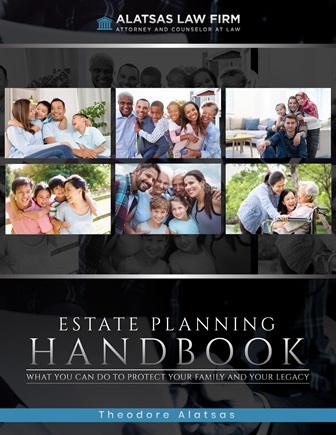 Your estate is evidence of a lifetime of hard work and sacrifice, and while you can't take your assets with you when you go, you deserve to have the final say on what happens to them in life, during periods of incapacitation, and after your death. Unfortunately, that's not the default in the state of New York—or anywhere else in the country. If you want to protect yourself, your family, and everything you've worked for, you need a comprehensive estate plan and a skilled attorney to help you create it. Fortunately, you've come to the right place.
Take Advantage of Two Decades of Estate Planning Expertise
My name is Theodore Alatsas. My Brooklyn-based firm, Alatsas Law Firm, has served clients throughout New York State for more than 20 years. Not only do we know the relevant legal statutes inside and out, but we're also familiar with courts throughout the state and have the necessary skills to help you accomplish your estate planning goals.
In Estate Planning Handbook: What You Can Do to Protect Your Family and Your Legacy, we provide a wealth of invaluable information on estate plans and the estate planning process. You will learn:
Why (almost) everyone needs an estate plan
The dangers of dying without a will
How to protect assets from probate
The importance of long-term care planning
Which legal documents make up a comprehensive estate plan and why you may or may not need all of them
What wills can and can't do
And much, much more
Request Your Complimentary Estate Planning Handbook Today!
Find out how Alatsas Law Firm can help you take control of your assets and leave a lasting legacy for your loved ones. Complete the contact form on this page to request a free digital copy of our estate planning guide. We'll email you a link to this valuable resource right away!