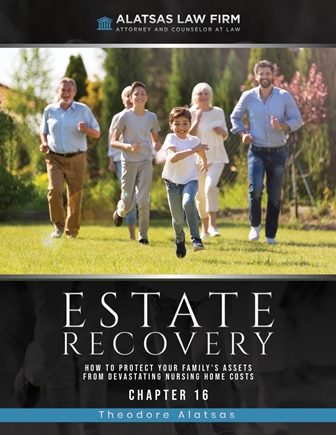 Long-term nursing costs have risen dramatically in recent years. Unless you're exceptionally wealthy (and don't mind spending your money on nursing home expenses), you're probably one of the millions of Americans who are counting on Medicaid to help them cover the cost of their long-term nursing care.
If you've done the necessary financial planning to qualify for Medicaid benefits, you may be ready to sit back, relax, and breathe a big sigh of relief. Not so fast. Though you may have sufficiently protected your family's assets from Medicaid during your lifetime, they can become subject to estate recovery after your death. Fortunately, we can help.
We Wrote the Guide to Protecting Your Assets From Medicaid Estate Recovery
Alatsas Law Firm's knowledgeable and experienced Medicaid attorney has helped numerous clients successfully protect their homes and other assets from recovery after their death. The book, How to Protect Your Family's Assets From Devastating Nursing Home Costs, provides a wealth of invaluable information. The Estate Recovery chapter covers:
What estate recovery is and when (and which) assets may be subject to it

Traditional and expanded definitions of "estate" and how this affects potential recovery

Timing and procedure of recovery claims

Issues for married couples

How to avoid estate recovery

And much, much more
This chapter is available for free as a complimentary preview of our book.
Request Your Free Chapter on Protecting Assets From Medicaid Estate Recovery
Ready to take the necessary action to protect your family's assets even after you're long gone? Complete the form below to request a free download of the Estate Recovery chapter of How to Protect Your Family's Assets From Devastating Nursing Home Costs. We'll follow up with you to answer your questions and send the full version of our guide.