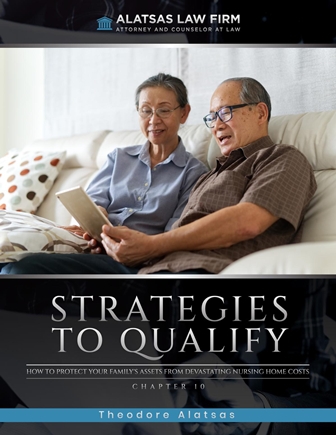 When it comes to qualifying for Medicaid coverage for long-term nursing care, misinformation abounds. Whether it's conveniently "forgetting" to disclose assets on your application (which is Medicaid fraud), or gifting or selling assets below fair market value in order to meet the program's asset qualification criteria (which can result in a penalty that delays your qualification for coverage), many of the things you read about—or hear about—people doing to try to cheat the system can have serious consequences.
While there are real and legal strategies that can help you qualify for the long-term nursing benefits you need and deserve, you can't trust what you've read on message boards or heard through the grapevine. Fortunately, when you need reliable Medicaid planning information, Alatsas Law Firm can help.
We Wrote the Guide to Medicaid Planning
Our book, How to Protect Your Family's Assets From Devastating Nursing Home Costs, covers a wide range of Medicaid planning topics. In the chapter, Strategies to Qualify, we discuss the pros and cons of:
"Spending down" your assets when you have too many resources

Prepaying expenses like utility bills and insurance premiums

Converting countable assets to non-countable ones

Converting non-countable assets to countable ones

Decreasing your home equity amount

Transferring excluded assets

Long-term care partnership programs

And much, much more
This chapter is available for free, as a preview of our guide.
Request a Free Chapter of Our Medicaid Planning Book
Are you ready to get serious about qualifying for Medicaid for your long-term nursing care needs? Complete the form below and we'll send a link to a free download of the Strategies to Qualify chapter directly to your inbox. After that, we'll follow up with you to answer your questions and send along the full version of our guide,
How to Protect Your Family's Assets From Devastating Nursing Home Costs
.